HUNT CANADA GEESE IN IDAHO WITH DRY FOOT OUTFITTERS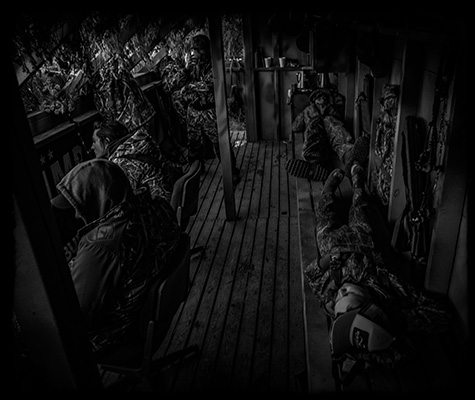 Here at DFO, chasing Canada geese is only surpassed by our love of Mallards. We hunt the Big Honkers a few different ways. The main way we pursue them is out of one of our many roomy and comfortable pits. Our pits are expertly concealed in various locations across our properties. For years we have patterned the birds and their flyways leaving and returning to the refuge. All of our fields are managed for the birds; depending on traffic and where the birds are eating will dictate where we hunt. Spreads can vary from large to small, as keeping the geese on their toes is key. We pick up our spreads after every hunt, never allowing the birds to become wise to our game.
You also may find yourself on a loafing pond or the world famous Ice House. The Ice House is a large blind with specific shooting holes brushed into the side of a large loafing pond. We look forward to the days of thick ice and big spreads of sleeper decoys. These are the days of long sits, with opportunities at many different types of waterfowl: big groups of migrating geese, and the ever popular single and doubles looking for safety offered by thick ice and open water. Ducks of all types and fashion will drop from the heavens to within mere feet of the blind. The lure of open water is just too much to resist. Our clients have grabbed some rare trophy birds at the Ice House, so be on your toes; you never know what may show up.
A non refundable deposit is required to book all hunts.